HAYMAC undertake stable and field shelter building & roof repairs in Bedfordshire, Berkshire, Bristol, Buckinghamshire, Cambridgeshire, Cheshire, Cornwall, County Durham, Cumberland, Derbyshire, Devon, Dorset, Essex, Gloucestershire, Hampshire, Herefordshire, Hertfordshire, Huntingdonshire, Kent, Lancashire, Leicestershire, Lincolnshire, Middlesex, Norfolk, Northamptonshire, Northumberland, Nottinghamshire, Oxfordshire, Rutland, Shropshire, Somerset, Staffordshire, Suffolk, Surrey, Sussex, Warwickshire, Westmorland, Wiltshire, Worcestershire, Yorkshire, Wales & Scotland.
At HAYMAC Timber Buildings we understand that the price of a new stable block or field shelter is generally out of reach for most people who already have a stable block or field shelter, albeit at the end of its serviceable life.
Often the best option is to refurbish your existing stable block or field shelter with a new watertight roof and maybe new stable doors and repairs to the panel walls and kickboard lining. With a fresh coat of stable paint, your refurbished building will look as good as new once again and offer many more years of faithful service.
Perhaps you have just outgrown your existing stable block and need more space; we can build an extension to your current stable block giving you the extra space you need. Look further down this page to view one of our stable extensions.
Stable & Field Shelter Roof Repairs
More often now, we are finding that the first part of a stable that fails is the roof sheeting. This is mainly due to the fact that the roof purlins installed by many stable manufacturers are put too far apart, this causes the bituminous corrugated roofing sheets to sag over time and then allows the sagging roof sheet to hold water, dirt and leaves which, over time, weakens the sheet until it ruptures.
The Onduline specification states that for roof slopes of between 10 & 15 degrees the purlins should be spaced at no more than 450mm apart and for roof slopes greater than 15 degrees the purlins should be no more than 610mm apart.
The problem with stable roofs is that they are generally around the 15 to 17 degree slope mark and the purlins are typically set at around 600mm which puts the Onduline fitted to these purlins right at the minimum slope level for the roof sheeting and purlin spacing; this inevitably causes premature roof failure.
The roof sheets on most stables and field shelters should only be installed with purlins at a maximum spacing of 450mm in line with the Onduline manufacturers recommendation - please download the Onduline specification for installation using the button below.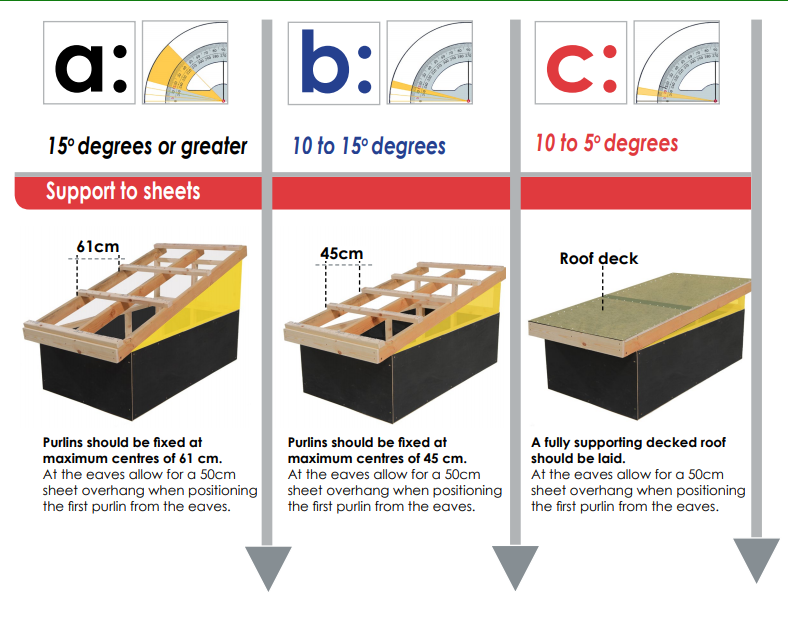 Our methodology for repairing the problem with leaking roofs with purlins installed too far apart, is to remove all the old roof sheeting, install additional roof purlins to ensure the distance between roof purlins does not exceed 450mm centre to centre and to replace the roof sheets & ridge caps. Using this method, we can ensure your roof sheets will not sag over time and start to leak.
Stable Valley Gutters
Another major problem with stable roofs are valley gutters where you have a corner stable block; most stable manufacturers use the same ridge caps used for the ridge turned upside down to form the valley gutter which can fail relatively quickly when the valley fills up with leaves and dirt. When we repair a stable valley gutter, we use a preformed fibreglass one piece valley designed for use on houses, these valleys make a 'proper' job that will not leak and are easy to clean out any debris. See the picture below of one of our valley gutters.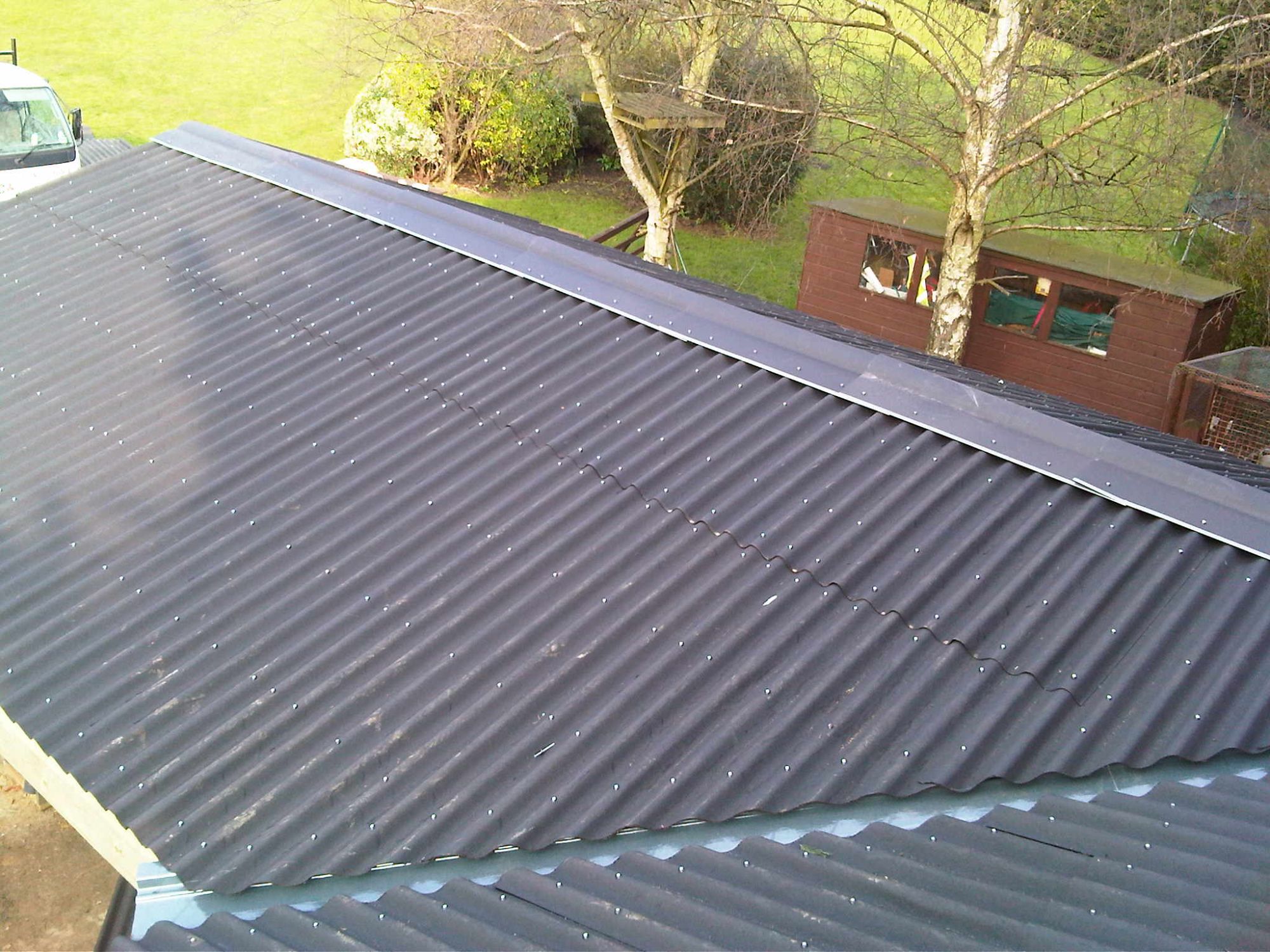 Stable & Field Shelter Building Repairs
If your stable or shelter roof is sound, perhaps your existing stable or shelter could just do with a little TLC to bring it back to its former glory. At HAYMAC we can replace your old stable doors, repair damaged walls and cladding, fit new kickboard lining and give your stable a fresh coat of stable paint making your stable or shelter look as good as new.
We do try and offer the best value for money. If we are not your cheapest quote for your stable or field shelter repair we need to know about it, please show us your cheaper quote, and if the materials and craftsmanship are of the same quality as ours, we will do our utmost to better your cheapest quote.
HAYMAC complete Stable Renovation Service
Let HAYMAC Timber Buildings fully refurbish your existing stable block, much more cost-effective than buying a new stable block!
At HAYMAC Timber Buildings we can build an extension to your existing stable block. Check out the pictures below of a corner stable block addition to a straight block of 4 existing stables.
Enquire about your stable & shelter repairs or your stable extension.
Please complete the form below and click the send button to get in touch with us.
Thank you for submitting the contact form.