The Hobbyshop is our biggest selling garden building range, with so many size variations, optional extras & upgrades and the facility to have your windows and doors fitted wherever you want and the option to have it built to your exact size it isn't any wonder this is our most popular garden building.
The Hobbyshop is a step above a standard garden shed, and please do not confuse this building with ones for sale in your local DIY store, the Hobbyshop doesn't compare in its construction methodology, build quality and material used. Click on the hammer below to to view the full build specification. Our Hobbyshops have an internal head room of 2.020m at the eves and 2.190m at the apex, this is much higher than nearly all other manufacturers and makes the Hobbyshop feel much larger inside.
Each Hobbyshop is constructed in our onsite workshops by our skilled craftsmen. Hobbyshops are available in standard sizes from 1.2m x 1.2m (4ft x 4ft) to 3.6m x 9.0m (12ft x30ft) built to under 2.5m high. We can build your Hobbyshop larger if required; please contact us with the size you need. Your Hobbyshop can be built to your exact size requirement so you can utilise the space you need your building to fit into without wasting space at no extra cost only pay for the nearest standard size building.
Your Hobbyshop will require weatherproofing and painting immediately after installation; please review our information sheet on weatherproofing and painting your new timber building.
If we are not your cheapest quote we need to know about it, please show us your cheaper quote, and if the materials and craftsmanship are of the same quality as us, we will do our utmost to better your cheapest quote.
Options available;
Available from 4ft x 4ft to 12ft x 30ft as standard sizes
Built to your exact size if a standard size doesn't suit.
Fully bespoke larger size buildings available.
Windows and doors where you want them.
Internal partitions.
Extra windows both opening and fixed.
Extra doors, extra wide doors & summerhouse glazed doors, double doors & stable doors.
Lean too side store & open fronted garden tools/log store.
Guttering.
Concrete base.
Timber frame base, frame only and frame with post supports
Self install- REDUCED COST OPTION
Supplied & Installed
Electric Pack.
Your old shed removed & disposed of.
We can dismantle and dispose of your old shed for you if you are replacing it with one of our HAYMAC timber buildings.
The cost for this service is dependent on the size of your old shed. Please note the price for this service assumes the old shed is empty of all contents and any rubbish and has not been lined with any timber or other types of boarding. The price for this service does not include the removal of any form of base your old shed has been erected on.
PLEASE NOTE WE CANNOT DISMANTLE OR REMOVE ANY SHEDS WHICH HAVE ASBESTOS ROOFING SHEETS.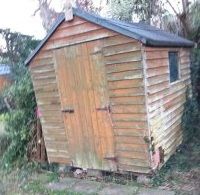 Contact us for a price on your Hobbyshop garden building
Please complete the form below with the size Hobbyshop you would like and click the send button to get in touch with us.
Thank you for submitting the contact form.